About Me
Learn a little bit about who I am and what I do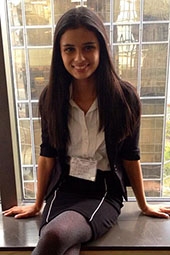 My name is Silvia A. Rueda and I'm a 20-year-old journalism major at the University of Florida. I decided to study journalism because of my constant desire to learn new things from people. I think that hearing stories and retelling them is an essential part of the human experience.
Although I entered journalism intending to be a writer, I have become very interested in photography and audio, which I now incorporate into my stories. Multimedia is the future of journalism, and I believe that there's a lot of power in a photograph or a good sound bit; a power which will never be lost.
When I'm not writing stories or shooting photos, I enjoy playing the guitar, singing and spending time with my friends and family.
I was born in Barranquilla, Colombia and moved to the U.S. when I was 7 years old. Although I initially didn't speak any English, I quickly learned and fell in love with the language. Today, I am fluent in both Spanish and English, and I am on my way to learning French.
I enjoy traveling even if its just within the U.S. I think that this country has a lot to offer and a new experience awaits where you least expect it. I especially love to make trips to Panama City Beach, Fla., where I attended high school.
After I graduate, I would like to focus on environmental or feminist journalism. Though these are very vastly different, I think a lot of times its important to, as a journalist, have varied interests.